We Aren't AT Your Party.....We ARE Your Party
KNOW THE PARTY
FIVE ON THE SIDE is here to make you dance, and dance with you.  We proudly produce the best music and entertainment money can buy.  We pride ourselves on the 3 P's – Party, Professionalism, and Perfection.
WEDDING AND CORPORATE EVENTS
Five on the Side offer a wide repertoire of music including country, rock and pop. Their playlists consist of songs from all different eras including the 60's through to some of today's chart toppers. Their style is dependent on what you want. The performance and playlist can be tailored to your specifications. You want a country hoe down, a classic rock dance night or a mixture of a bit of everything, Five on the Side is the band for your wedding or corporate party.
Sarah Kowalevsky
Vocals
Sarah was born in Winnipeg, MB. In 1999 Sarah and Justin moved to Edmonton and she began to study voice at Grant MacEwan. After graduation, Sarah, Justin, Derek and Josh began to tour on cruise ships performing as the group Blue Fondue which retired in 2004. Sarah and Justin have established roots in Edmonton, AB with their two children. She currently is employed with the University of Alberta Executive Education as a Program Advisor.
Kent Shores
Guitar
Kent is a born and raised hometown Edmontonian. Although only in his mid 20's, his fun loving, easy going attitude and exceptional talent have lead him to perform across Canada, India and the USA. After high school, he attended the University of North Texas, where he earned a degree in Jazz Studies. Five years later he moved back to Edmonton to work as a freelance musician and guitar teacher. Kent may be newest member of Five On The Side, but he fits in like Waffles on a Saturday morning.
Josh Mellott
Keyboard
Josh is a true, home grown Edmontonian! He has been playing piano all of his life and enjoys all styles. Josh is also a fellow graduate of the Grant Macewan music program, earning his tassel in 2003. After graduation he joined the other members of Blue Fondue for two contracts on the high seas. By day Josh is a director of new client acquisition for West Key Graphics, and by night his electric and charismatic personality entertains the clients of Five On The Side.
Derek Vokins
Bass
Derek is originally from the border city of Lloydminster, AB and is another hometown superstar. He joined Blue Fondue in 2002 and travelled the high seas until the band retired to land in 2004. Derek was also a part of the Grant MacEwan music program and focused his study on the bass. Derek enjoys working at ATCO Gas and lives in Edmonton with his wife.
Justin Kowalevsky
Drums
Justin, a budding drummer from the age of 13 comes from a small town named Swan River, MB. In 1999 Justin moved to Edmonton to attend Grant MacEwan's music program. Upon graduation he and Sarah started their cruise ship adventures with Blue Fondue from 2001 to 2004. Now Justin lives with his wife Sarah and two kids in Edmonton, AB. Justin is the band leader for Five on the Side and is an electrician for Territorial Electric.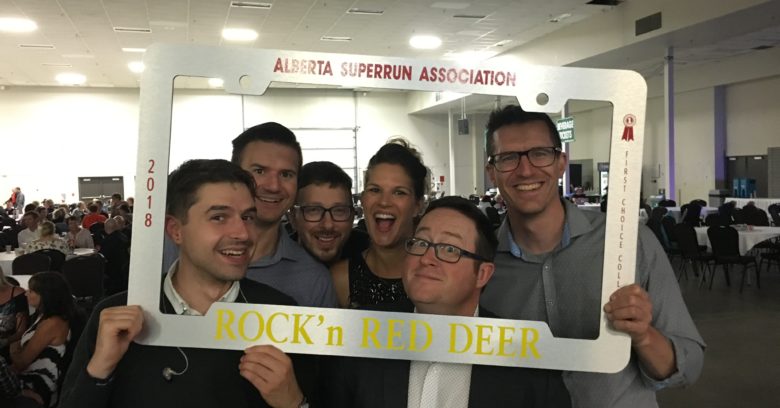 The same band that rocked Red Deer for the Alberta Superrun Association's wrap up is coming to Casino Edmonton on Nov 9 & 10.  Come on out and get some 'Canned Heat In Your Heals'.